Resistance Is Futile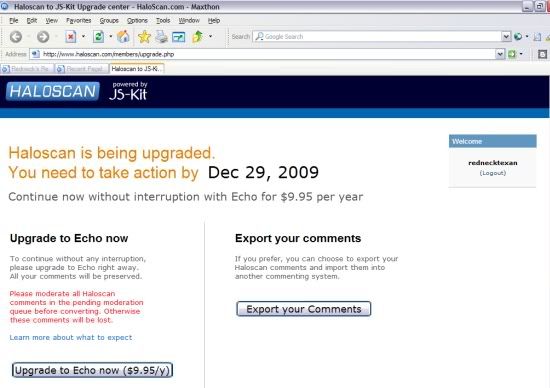 New Owners Of Haloscan - Exciting news – Haloscan, the legacy comment system that JS-Kit acquired last year, is getting upgraded to the new Echo platform. You can test Echo on the bottom of this blog post to get a feel for it's features.

This transition will happen in batches of users over the course of a couple of months. The first batch of users will start getting a notice of the upgrade right away on their Haloscan admin dashboard.

Once presented with the upgrade message, Haloscan users will have 2 weeks to make a decision. You will have the following two options.

1.Upgrade to Echo for $9.95/year – all your comment data will be transitioned over automatically

2.Export your Haloscan comment data and turn off their service

Users need to respond within the two week period to ensure uninterrupted service.

While Haloscan has a been a trusted friend for many, the reality is that the servers and the software are beginning to fail and our small startup is unable to continue to support two platforms. We recognize that change is always difficult and daunting, however we hope that the new features, great support and constant innovation on the Echo platform will offset the challenges of any switch.

We will do our best to try to minimize the turbulence. We appreciate your patience and understanding during this period.
Well, it looks like our commenting experience here will be changing soon. Wish I could say it was going to be easier and better, but truth is I have no idea how its going to work out. I have a feeling it's going to be a fucked up transition period, and a less user friendly interface than we have now ...... But Momma says it just be's that way sometimes.