Military.Com - Brazilian aircraft manufacturer Embraer is participating in preliminary negotiations to sell the U.S. government eight 314-B1 Super Tucano light attack and training planes for use in Iraq, the company said June 2.

Embraer also confirmed that it sold one of the propeller-driven planes to a subsidiary of Blackwater Worldwide, the world's largest security contractor and the target of harsh criticism for its conduct in Iraq.

The plane maker is offering Washington the Super Tucano in a tender process opened by the U.S. government, according to an Embraer spokesman who declined to be named in keeping with company policy.

Embraer, or Empresa Brasileira de Aeronautica SA, has sold 99 of the planes to the Brazilian military and 25 to neighboring Colombia's air force - mostly to fight drug trafficking along the countries' Amazon border, the spokesman said.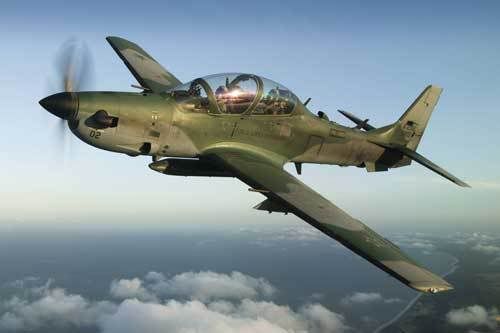 A light fighter like the Super Tucano - which the Brazilian military outfits with .50-caliber machine guns under each wing - could be used to patrol Iraq's borders with Iran and Syria, where the U.S. military says militants and weapons are routinely smuggled.

The U.S. has provided small planes before to the nascent Iraqi air force, which has about 1,500 personnel and 50 aircraft - mostly small propeller planes and helicopters.

The Embraer spokesman confirmed the sale of a Super Tucano to Blackwater subsidiary EP Aviation.

Brazilian law prohibits a private company from selling arms for use in existing conflicts, but the spokesman said the plane was not shipped with any armaments and was intended for training purposes in the U.S.

If the U.S. government decides to buy the Tucano from Embraer and requests that they be outfitted with weapons, at that point the Brazilian government would have to step in and negotiate the sale, the Embraer spokesman said.

Neither the foreign or defense ministries would comment on that assertion.

The plane sold to EP Aviation was bought for $4.5 million and delivered at the end of February. Records on the Web site of the U.S. Federal Aviation Administration confirmed that EP Aviation had registered a Super Tucano.