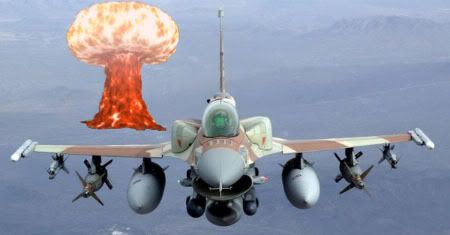 BBC NEWS - Israel has carried out an exercise that appears to have been a rehearsal for an attack on Iran's nuclear facilities, US officials have told the New York Times.

More than 100 Israeli fighter jets took part in manoeuvres over the eastern Mediterranean and over Greece in the first week of June, US officials said.

Iran insists its programme is peaceful, but Israel sees Iran's development of the technology as a serious threat.

Tehran is defying a demand from the UN that it stop the enrichment of uranium.

The UN Security Council approved a third round of sanctions against Iran over the issue in March 2008.

'Signals'

Several US officials briefing the New York Times said the exercise was intended demonstrate the seriousness of Israel's concern over Iran's nuclear activities, and its willingness to act unilaterally.

"They wanted us to know, they wanted the Europeans to know, and they wanted the Iranians to know," a Pentagon official is quoted as saying by the newspaper.

"There's a lot of signalling going on at different levels."

The exercise involved Israeli helicopters that could be used to rescue downed pilots, the newspaper reported.

The helicopters and refuelling tankers flew more than 1,400km (870 miles), roughly the distance between Israel and Iran's main uranium enrichment plant at Natanz.

The New York Times reported that Israeli officials declined to discuss the details of the exercise.

A spokesman for the Israeli military said the air force "regularly trains for various missions in order to confront and meet the challenges posed by the threats facing Israel".

Warnings

Israeli Prime Minister Ehud Olmert warned on 4 June that drastic measures were needed to stop Iran obtaining nuclear weapons.

He said Iran must be shown there will be devastating consequences if it did develop such weapons.

Israeli deputy Prime Minister Shaul Mofaz - a former defence minister - said earlier this month that military strikes to stop Iran developing nuclear weapons looked "unavoidable".