AFP - NATO peacekeepers Tuesday sealed two Kosovo border crossings with Serbia for 24 hours after they were torched by angry Serbs as international tensions simmered over Kosovo's independence.

Russian Foreign Minister Sergei Lavrov warned the United States that Kosovo's break from Serbia was "dangerous" for the world, but US President George W. Bush insisted the move would bring peace.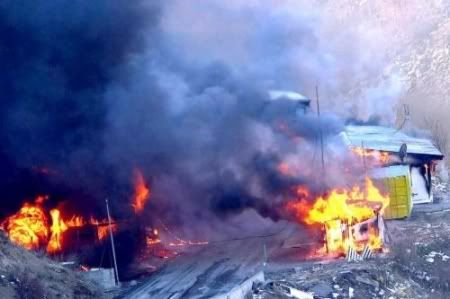 Kosovo lawmakers took the split further by passing their first legislation since Sunday's declaration of independence, including the creation of Kosovo citizenship, passports and a foreign ministry.

EU foreign policy chief Javier Solana meanwhile became the first top international figure to visit since independence was proclaimed, flying into the capital Pristina for the day to see Kosovo leaders.

Tuesday's arson attack by hundreds of Serbs was the most serious violent reaction to the unilateral break from Belgrade in Kosovo, which has been formally recognised by the United States and major European powers.

With Serbia vowing to contest the split as illegal, at least 1,000 Kosovo Serbs plus 150 from Serbia ransacked and torched the Banja and Jarinje border crossing points before fleeing.





"We couldn't do anything. We just moved away, as there were only a few of us compared with the group of very angry Serbs," a Kosovo Serb policeman at the scene told AFP.

Kosovo Police Service spokesman Veton Elshani said there were no casualties, as the NATO-led peacekeeping Kosovo Force (KFOR) rushed troops to both sites in their first intervention since independence was declared.