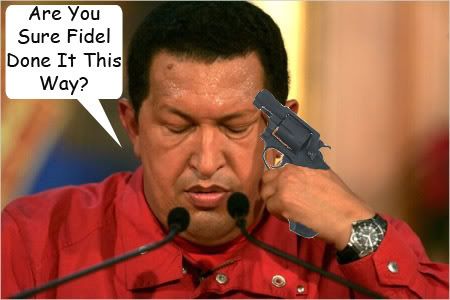 FOXNews - President Hugo Chavez suffered a stunning defeat Monday in a referendum that would have let him run for re-election indefinitely and impose a socialist system in this major U.S. oil provider.

Voters defeated the sweeping measures Sunday by a vote of 51 percent to 49 percent, said Tibisay Lucena, chief of the National Electoral Council, with voter turnout at just 56 percent.

She said that with 88 percent of the votes counted, the trend was irreversible.

Opposition supporters shouted with joy as Lucena announced the results on national television early Monday, their first victory against Chavez after nine years of electoral defeats.

Some broke down in tears. Others began chanting "And now he's going away!"

"This was a photo finish," Chavez told reporters at the presidential palace, adding that his respect for the results proves that, unlike past Venezuelan governments, his respects the people's will.

Exactly a year ago, Chavez won re-election with 63 percent of the vote.

"Don't feel sad," Chavez urged supporters, especially given the "microscopic differences" between the "yes" and "no" options in a referendum that opponents feared could have meant a plunge toward dictatorship.

Chavez's supporters said he would have used the reforms to deepen grass-roots democracy and more equitably spread Venezuela's oil wealth.

The changes would have created new forms of communal property, let Chavez handpick local leaders under a redrawn political map, permit civil liberties to be suspended under extended states of emergency and allow Chavez to seek re-election indefinitely. Now, Chavez will be barred from running again in 2012.

Other changes would have shortened the workday from eight hours to six, created a social security fund for millions of informal laborers and promoted communal councils where residents decide how to spend government funds. The reforms would also have granted Chavez control over the Central Bank and extended presidential terms from six to seven years.

Chavez was gracious in defeat: "To those who voted against my proposal, I thank them and congratulate them."

But he also urged calm and restraint.

"I ask all of you to go home, know how to handle your victory," Chavez said. "You won it. I wouldn't have wanted that Pyrrhic victory."

Yet he made it clear he would remain a formidable foe.

Echoing words he spoke when as an army officer he was captured and jailed for leading a failed 1992 coup, he said: "For now, we couldn't."

The ever combative Chavez had warned opponents ahead of the vote he would not tolerate attempts to incite violence, and threatened to cut off oil exports to the U.S. if Washington interfered.