New York Times - An attack on a political rally killed the Pakistani opposition leader Benazir Bhutto near the capital, Islamabad, Thursday. Witnesses said Ms. Bhutto was fired upon before the blast, and an official from her party said Ms. Bhutto was further injured by the explosion, which was apparently caused by a suicide attacker.

At least a dozen more people were killed. "At 6:16 p.m. she expired," said Wasif Ali Khan, a member of Ms. Bhutto's party who was at Rawalpindi General Hospital where she was taken after the attack, according to The Associated Press.

Hundreds of supporters had gathered at the rally, which was being held at Liaqut Bagh, a park that is a common venue for political rallies and speeches, in Rawalpindi, the garrison city adjacent to the capital.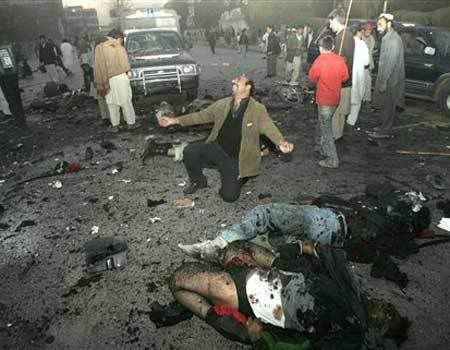 Amid the confusion after the explosion, the site was littered with pools of blood. Shoes and caps of party workers were lying on the asphalt, and shards of glass were strewn about the ground.

Farah Ispahani, a party official from Ms. Bhutto's party, said: "It is too soon to confirm the number of dead from the party's side. Private television channels are reporting 20 dead." Television channels were also quoting police sources as saying that at least 14 people were dead.

The attack immediately raised questions about whether parliamentary elections scheduled for January will go ahead or be postponed.