Navy Assembles 9 Warships Off Iranian Coast in Surprise Show of Force in Gulf
Fox News - The U.S. Navy staged its latest show of military force off the Iranian coastline on Wednesday, sending two aircraft carriers and landing ships packed with 17,000 U.S. Marines and sailors to carry out unannounced exercises in the Persian Gulf.

The carrier strike groups led by the USS John C. Stennis and USS Nimitz were joined by the amphibious assault ship USS Bonhomme Richard and its own strike group, which includes landing ships carrying members of the 13th Marine Expeditionary Unit.

The Navy said nine U.S. warships passed through the narrow Strait of Hormuz on Wednesday. Merchant ships passing through the busy strait carry two-fifths of the world's oil exports.

Aircraft aboard the three carriers and the Bonhomme Richard were to conduct air training while the ships ran submarine, mine and other exercises.

U.S. Navy officials said Iran had not been notified of plans to sail the vessels, which include two aircraft carriers, through the Straits of Hormuz, a narrow channel in international waters off Iran's coast and a major artery for global oil shipments.

Most U.S. ships pass through the straits at night so as not to attract attention, and rarely move in such large numbers.

On the way to the straits, a public announcement called on crew to witness "some of the most powerful ships in the world," whose tight formation against a backdrop of the setting sun created a dramatic image of American naval might.

The group of ships, carrying around 17,000 personnel, crossed at roughly 0355 GMT.

The maneuvers come less than two weeks after U.S. Vice President Dick Cheney, speaking aboard the Stennis during a tour of the Gulf, said the United States would stand with others to prevent Iran gaining nuclear weapons and "dominating the region".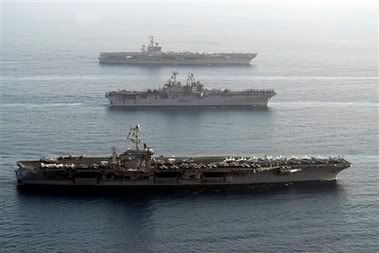 If It Flies It Dies