Washington Post - The controversy over Pakistani President Pervez Musharraf's decision to suspend the nation's chief justice escalated dramatically Friday, as thousands of boisterous protesters clashed with police in downtown Islamabad and the government detained key opposition leaders.

Musharraf suspended the Supreme Court's chief justice, Iftikhar Muhammad Chaudhry, last week, and since then anger over the move has grown. For much of the day Friday, protesters from across Pakistan's political spectrum jammed the area around the Supreme Court building, where a hearing on Chaudhry's fate was set to be held. The protesters chanted anti-government slogans and called for Musharraf's resignation.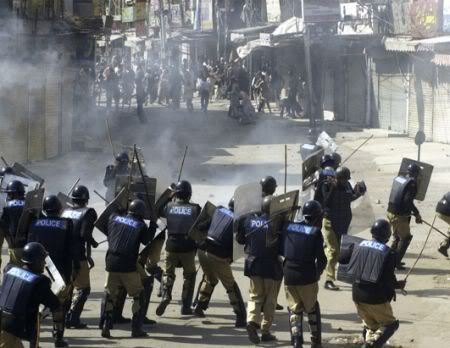 Witnesses at the scene said that the police used tear gas, rubber bullets and baton charges in an attempt to disperse the crowd, and that they arrested numerous opposition leaders. The Pakistani media reported that perhaps dozens of opposition members also had been detained in advance of the rally.

Among those reportedly detained were a former president of Pakistan, Rafiq Tarar; Qazi Hussain Ahmad, chief of the Mutahidda Majlis-e-Amal, a coalition of Islamic parties; and members of the parties of former prime ministers Nawaz Sharif and Benazir Bhutto.

Information minister Tariq Aziz Khan said he could not confirm the arrests, but said that the government was taking steps "to maintain law and order." Islamabad was under extremely tight security Friday. Police checked cars entering the city and areas around key government buildings were ringed with razor wire.

The government also made moves to suppress media coverage of the controversy. The regulatory agency that governs broadcasting blocked a television news show hosted by journalist Kamran Khan on the private Geo network Thursday night.

Khan, who is also a correspondent for the Washington Post, said in an interview that the government had considered his coverage of the judge's dismissal to be "too aggressive."

The information minister said the Geo program had violated a request by a judiciary council handling Chaudhry's case that the media not speculate about the situation.

Late in the day, police ransacked Geo TV's Islamabad offices.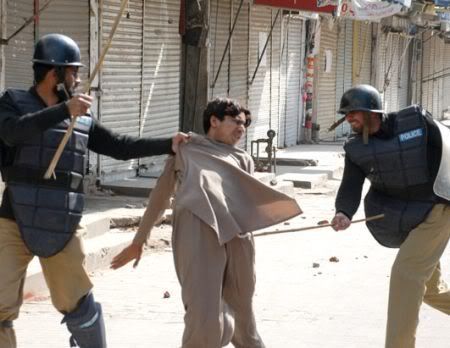 The government has not said specifically why Chaudhry was suspended, only saying the judge abused his authority. But opposition parties and Pakistani media accounts have alleged the suspension came because Musharraf was concerned Chaudhry would require the president to step down as chief of army staff later this year.

"Nothing like this has happened during the time Musharraf has been in power," said Ayaz Amir, a columnist for the English-language Dawn newspaper. "This has shaken the country. It has shaken the government. This is the most serious situation Musharraf has faced, and it has all the potential of getting out of hand and turning into something bigger."