PRIME Minister John Howard's plane was forced to make an emergency landing in war-torn Iraq yesterday when the cabin of the RAAF aircraft filled with thick smoke during a top-secret visit to Baghdad.

As the smoking C-130 Hercules landed at an army base 300km south-east of Baghdad, troops rushed Mr Howard from the tarmac, fearing the transport plane might explode.

The Hercules, carrying 30 people, including military personnel and media, filled with smoke soon taking off from the Tallil air base. As it reached an altitude of 5000 feet, it turned around.

The pilot made a rapid descent as passengers, wearing emergency gas masks, braced themselves for the landing. By the time the Hercules came to a shuddering halt on the tarmac two minutes later, smoke had engulfed the cabin and was billowing from the plane.

Although shaken, Mr Howard was unhurt by the 14-minute ordeal and continued his trip to Baghdad aboard a second aircraft 20 minutes later.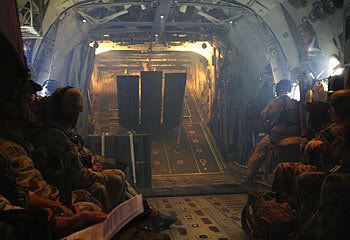 Passengers reported suffering headaches from the incident, which were caused by the steep descent.

It was Mr Howard's second visit to a war zone in 48 hours after an earlier visit to Afghanistan.

On the tarmac, he said: ``I'm fine. I was in very good hands. You can't get any better than the RAAF.

"It was a really good performance, and I want to thank everyone.''

Mr Howard was seated in the cockpit with defence force chief Air Vice-Marshal Angus Houston. Both men were wearing bright orange military gas masks.

The RAAF described the emergency as a PAN - possible assistance necessary - which is one step down from a mayday call.

Air Vice-Marshal Houston said later: "It was a precautionary landing. A PAN was declared and the pilot requested an immediate landing.''

News of the scare leaked out last night despite difficult communication lines.

While the Prime Minister was on the tarmac in Tallil there were serious concerns that insurgents could become aware of his location through radio networks.

Correspondents, however, were able to make contact despite the poor communications infrastructure.

After landing safely, Mr Howard was whisked straight from the airport tarmac to a waiting helicopter and flown over the city to the secure diplomatic ``green zone''.