Washingtonpost - BRISTOL, Tenn., March 23 -- Jeff Gordon can't say that he likes the looks of NASCAR's much ballyhooed "Car of Tomorrow" any better now. But after ripping off the fastest lap at Bristol Motor Speedway on Friday, circling the high-banked oval at 125.453 mph to win the pole for Sunday's Food City 500, Gordon admitted, "It has grown on me a little bit."

Same for Tony Stewart, who blasted NASCAR's radically revamped racecar as a "flying brick" when it was unveiled months ago. After locking in a fourth-place starting spot in his No. 20 Chevrolet "brick," Stewart conceded, "I am feeling better about this car."

Success tends to make life's annoyances easier to bear. So it was for the NASCAR drivers who figured out how to wring more speed than most out of the boxy, bulkier racecar during Friday's qualifying session.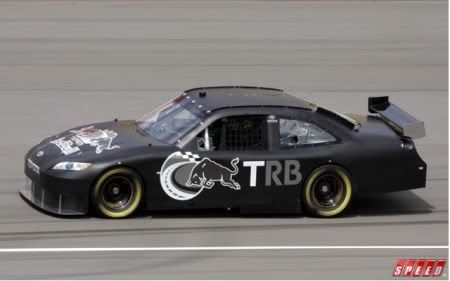 Dodge teammates Kasey Kahne and Elliott Sadler qualified second and third in their new Avengers. And even Toyota had something to crow about, a welcome change after the Camry's abysmal start to its maiden campaign in NASCAR's top ranks. Five Toyota drivers qualified for Sunday's race, the most this season. And all five earned their spots on their qualifying speed rather than having to rely on provisional entries. That means Jeremy Mayfield and A.J. Allmendinger will start their first race this season, having missed the first four.

"I feel like we won the race," Mayfield gushed. "I really like the Car of Tomorrow because this is the first race we've made all season, so I love it!"

But Michael Waltrip, whom Toyota tapped to be the face of its entry into NASCAR racing, missed the cut for a fourth consecutive race. Waltrip's continued struggles are no doubt straining his relationship with Toyota and his sponsor, NAPA -- particularly after he opened the season by getting caught with an illegal additive in his fuel during qualifying for the Daytona 500.

But in all, the coming-out party for the Car of Tomorrow was a success, with nothing calamitous happening on the track and no drivers hurling expletives in the garage.

NASCAR's new racecar represents a bold experiment on the part of stock-car racing's sanctioning body. It's the first time in the sport's history that NASCAR engineers have actually designed a racecar, usurping the role traditionally played by Detroit automakers and savvy race-team mechanics.

The result is a body that is four inches wider, two inches taller and has half the down force of the traditional stock car, which makes it more difficult to control through the corners. To add down force, teams can adjust two tuning elements of the car: the rear wing and the front "splitter," a two-tiered shelf that protrudes from the nose. But even with the angle of the rear wing set at its maximum, and the splitter fully extended, the car lacks the degree of down force most drivers say they need to feel comfortable.