I'm very frustrated that the debate over Immigration Reform has blurred the line between immigrant vs illegal. We need to keep some PERSPECTIVE.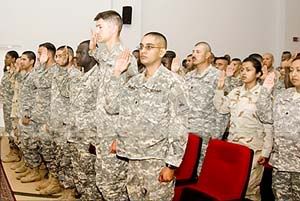 Deployed Servicemembers Become American Citizens
American Forces Press Service
CAMP ARIFJAN, Kuwait, April 7, 2006 – Servicemembers deployed to Kuwait became U.S. citizens yesterday during a naturalization ceremony at chapel here.

Fifty-seven soldiers and sailors from 26 different countries were presented a certificate by Army Lt. Gen. R. Steven Whitcomb, Third U.S. Army commander, and Matthew H. Tueller, charge d'affairs of the U.S. Embassy Kuwait.

"It is a great day to be an American," said Whitcomb. "I am not only happy and proud to be here as a soldier, but as an American as well."

"As new citizens to the United States, I salute you," Tueller said. "From today on, you have the opportunity to pursue the American Dream."

Special guests from the Department of Homeland Security's U.S. Citizen and Immigration Services, Rome office, participated in the ceremony. Lori Pietropaoli, officer in charge, administered the oath of allegiance and presented the certificates. Joseph Hackbarth, immigration officer, presented the candidates.

To become eligible for U.S. citizenship, a person must demonstrate good moral character, an understanding of U.S. history and government, and comprehension of the English language.

The ceremony was the first one conducted since mid-December as servicemembers from all over Kuwait, Iraq and Qatar took the oath to become U.S. citizens.