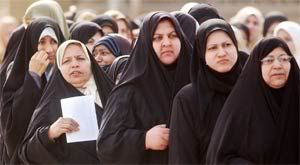 I can't wait to see what the percentage of women are in this vote! This is a really good roundup of the voting. I am compelled to highlight some excerpts and the emphasis is mine, of course.
Some couldn't read, but knew their party's identification number on the ballot. Others couldn't see, but were led to the polls by police.

Across Iraq, and especially in the Shia south and the Kurdish north, Iraqis went to the polls expressing determination and pride, together with hope that the election will improve their hard lives.
Samir Hassan lost his leg in a Baghdad bombing but that did not stop him reaching the polling station.

"I would have crawled here if I had to. I don't want terrorists to kill other Iraqis like they tried to kill me," said Hassan, 32, propping himself up on worn metal crutches as he queued in the working class district of Hurriya, a mixed Sunni and Shia neighbourhood near the old city.

"Today I am voting for peace. It is the only way, we must vote against them," he added.

[ ]

Fathiya Mohammed, 50, proudly held up a thumb stained with the purple ink used to mark those who had voted.

"Am I scared? Of course I'm not scared. This is my country," said the elderly woman, dressed in a head-to-toe abaya, who voted in her neighborhood polling station in the small town of Askan, a mixed Sunni and Shia area.

"This is democracy," she added. "This is the first day I feel freedom."

[ ]

In the northern Kurdish city of Sulaymaniyah, a man carried 80-year-old Mohammed Karim Khader over his shoulders and trekked the last few steps to the polling station.

[ ]

At a polling place in eastern Baghdad, an Iraqi policeman in a black ski mask tucked his assault rifle under one arm and held the hand of an elderly blind woman to guide her to the polls.

[ ]

In the relatively secure Kurdish north, people flowed steadily to the polls. One illiterate man in Arbil, 76-year-old Said Rasool, came alone and was turned away, unable to read the ballot paper. He said he would return with someone to help.

[ ]

In Samarra, the crackle of gunfire was heard minutes after polls opened, but by midday hundreds of people were voting. One woman, covered head-to-toe in black robes, kept her face concealed, but said she voted with pride.

[ ]

Baghdad's mayor was overcome with emotion by the turnout of voters at City Hall, where he said thousands were celebrating.
"I cannot describe what I am seeing. It is incredible. This is a vote for the future, for the children, for the rule of law, for humanity, for love," Alaa al-Tamimi told Reuters.
Read the article.
Posted by Texas Gal